"I write this letter of reference for your consideration of Ken and Caroll Dembowski for Real Estate representation. In determining a real estate transaction, the key component of your success is your agent team. This team represented us as sellers recently and when other homes surrounding us were not selling, once the Ken and Caroll represented us, we got offers and sold our home!

The Dembowski's contacted us to list the property, amongst many cold calls and promises of excellent service. All the agents seemed capable, armed with facts and figures and examples of success. The determining factor in hiring Ken and Caroll was the level of professional integrity they displayed in the early contact stage. The ability to gain our trust through their thorough research of the existing market, our home in particular and of course, the news that our home would not be selling at the price we had hoped for. This is very difficult news to present to homeowners and they never wavered or promised us more than they could deliver. This honest evaluation was the critical issue for us to be able to sell our home promptly. They were diligent in responding to our questions and concerns. They returned our calls promptly and pursued any possible lead. They followed a trail and would not let it grow cold. They were actively engaged in the entire process not just getting our listing.

Once a buyer had been uncovered, they stayed in constant communication, negotiated a very strong position for us and ultimately led us through an escrow process that was exacerbated by the buyers 'entitled attitude', as is common in this market. Their support team at ReMax and Beneficial Escrow made the process seamless without any drama or problems.
This team of husband and wife is strong. They consistently think ahead of any issues that might arise, provide sterling service and most importantly are mature professionals with integrity.
I would hire the Dembowski's again and again, and highly recommend them to all of my friends, family and associates. I would encourage you to sign with them and ensure your success."
- Maureen and Dane Kohal
"Ken and Caroll Dembowski are the dynamic duo ! My husband and I wanted to move to Orange County from out of town and their incredible knowledge of Orange County was impressive. We never heard the words no, or, I can't make that day to show us homes. Ken was always available for us even though he had several other clients! Ken is very patient and always explained things so we completely understood our options. He went to bat for us when it came to repair work needed on the home we purchased. It was refreshing that Ken always had everything under control and always available for our questions. He even had cold water bottles for us while we were in the horrid heat looking for homes, Ahhh it is the small things that make you feel special.
We are absolutely in love with our home! Thanks to the Dembowski Duo!"

- Stacey W. | Mission Viejo, CA ​
"Before you choose a realtor (or when you have been disappointed by another realtor) we strongly recommend that you consider Ken & Caroll Dembowski as your real estate agents. They are true professionals and will handle and complete your transaction with such personal attention that it may seem like you are their only client! We've just sold and closed escrow on the third property Ken & Caroll have handled for us in the past ten years, and we could not be happier or more impressed with the level of service we received in each and every transaction. They put a competitive price on our home, we had showings immediately, and in a difficult market we had a signed contract just ten days after the listing first appeared in MLS!
​
Ken and Caroll kept us very well-informed from listing to deed recording with regular email updates and phone calls, and they kept the process moving continually through the offer and contingency periods. Their advice and suggestions on several issues which arose at various times were always appropriate and accurate. Their long combined experience in all sorts of situations and market conditions was very evident to us all through the process. And they never once "handed us off" to an assistant they were there for us personally every step of the way, making this sale (and our other two) a pleasant rather than confusing or even aggravating experience. One last thought. During the years when I was a CPA/CFP, I often worked with real estate agents on behalf of both clients and my own family. While some of those experiences were good, none of those realtors were as attuned to their markets or sustained the excellent level of client service and communication which we've experienced with Ken and Caroll. They are real estate professionals in the highest sense of that word, they conduct themselves with honesty and integrity, and they are great people, too! We give them our highest possible recommendation."

- Paul and Janis Babic
"When we received a call from Caroll and Ken, our initial response was that of nonchalance. Because we had experienced difficulties and frustrations with numerous past agents who often turned out to be ineffective and unreliable, we concluded that the Dembowskis were just the same. We simply dismissed the call. But they did not give up. They called us within the next two weeks to inquire how we were doing. From that moment, we knew that Dembowskis were different from others. We decided to give them a chance. On the first day of our official meeting, Ken and Caroll brought their extensive resume and a comprehensive report on the current real estate situation. Although my mother had a language barrier, the Dembowskis retained patience and respect.
While our house was on sale and open house, Ken and Caroll were in constant contact with us. The best thing about the Dembowskis was their availability; many agents are hard to get in contact with, but Caroll and Ken were always available to talk to regarding our questions and concerns. Also, through every conversation I had, I knew that they were diligent, patient, and most importantly, respectful. Caroll and Ken always think from the perspective of the seller and provided informative and prudent decisions for us. They even updated us with important and recent news, opinions of buyers, and information via email and phone calls.

Even during such turbulent time of housing market crisis and unsuccessful sales, Caroll and Ken assisted us in selling our property in just two and a half months. My family and I were overjoyed and greatly thankful. Even until the closing of escrow, they were in contact with us to see how we are doing.
​
Overall, we were very satisfied to have Caroll and Ken as our agents. We have no regrets regarding our sale and are thankful to have met the Dembowskis. I highly recommend Caroll and Ken to anyone who is looking for reliable, honest, patient and hardworking agents to work with."

- Emily Park
"Ken and Caroll were referred to us by friends who had used them for the sale of their home years ago. We had never met them and were looking for an agent who was willing to meet our needs in selling our home. Ken and Caroll came to our house and explained everything they offer and helped us feel better in knowing we were going to be taken care of from beginning to end of the process. They listed our home higher than we planned on listing so we were surprised and happy at the same time. The photos on MLS were amazing and we had offers immediately after listing and ended up in a bidding war. Our house closed last week and we sold for much higher than list price and never had any problems. We have sold homes before and know first hand that it can be a difficult and stressful process. They are so professional and at the same time they make you feel like family. We knew our calls were always going to be returned by one of them and never had to wait for anything. We already have friends and neighbors asking for their info. Happy to share our amazing experience."

- Mike & Debbie
"Hi Caroll,

We wanted to thank you for assisting us all in the sale of Pacific. I think that your honesty and integrity helped make our deal happen. As you know, this home had many many issues. If I felt like we were dealing with an agent who was trying to hide things or was not honest, we would not have made the offer or backed out of it when it got tough. I would also say that you never gave up. We had some TOUGH issues with this house and I always felt like you and Ken were on it and wanted everyone to be happy. I know you represented the seller but as the buyer I felt like you wanted to make it work for everyone. That was important. You can still represent the seller and be on great terms with buyers. You don't have to be adversaries like some agents are. You were also patient while we did what we needed to do with inspections and such to feel comfortable in what we were doing. With a big ticket house, you want to work with someone knowledgeable, professional, and honest.

Thank you for all of your time and efforts!"

- Connie Ryan, M.A. | President of Professional Development Institute www.webteaching.com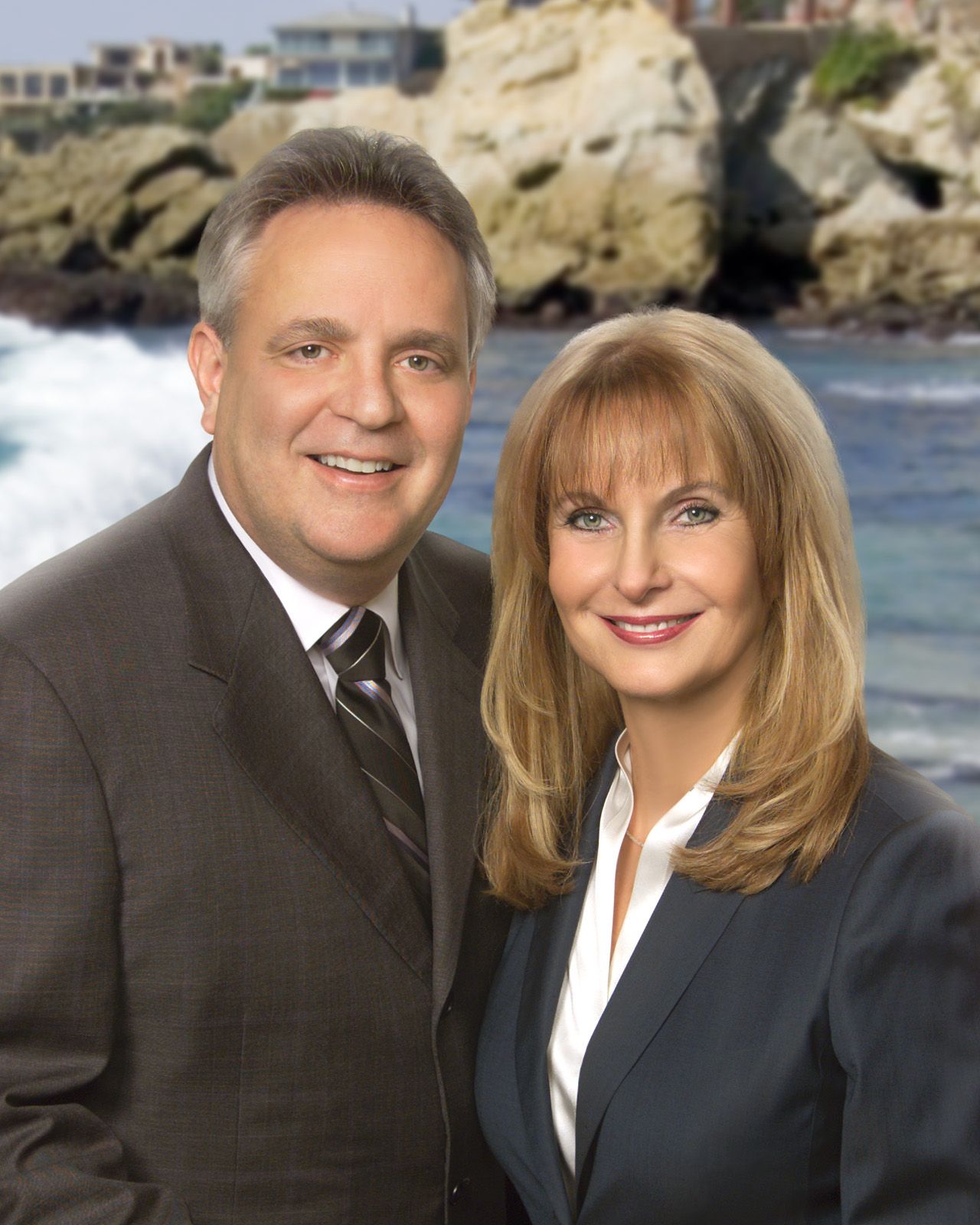 Ken and Caroll
Dembowski
Ken Dembowski: CA DRE # 01061678
Caroll Dembowski: CA DRE #01246140
Call or Text:
949-556-4500
Contact Us! We'd Love To Hear From You